Library
Biblionomade is back
The BiblioNomade will be back this summer at Charbonneau Park.
Great activities and meetings await you. Stay tuned, the BiblioNomade schedule will be shared with you soon on the library catalog.
To find out about the program, go to biblio.ville.rosemere.qc.ca/biblionomade.
Club des aventuriers du livre

June 26 to August 20, 2023
This summer, become a great explorer! Travel the world in search of mysterious ancient treasures.
Are you ready for adventure?
Read a ton of new stories, take on challenges, participate in activities and have a chance to win many prizes.
Visit the library's website to find out more about the Club and how it works.
Au fil des mots

August 16, 2023
Sunset discussion with an author, moderated by Amélie Boivin-Handfield (author coming soon).
The Au fil de l'eau, au fil des mots literary event will convene for its sixth edition on Wednesday, August 16, 2023, at 7 p.m. at 325 Grande-Côte (202 Grande-Côte in case of rain). Advance registration is not required. Please bring a folding chair. Waterfront parks throughout the Lanaudière and Laurentians areas will be transformed into outdoor parlours to admire and appreciate literature and host one-on-one conversations with authors.
In many cases, a river will serve as the picturesque backdrop for the festivities. This is a unique series that is sure to treat locals and visitors alike to some fascinating literary discoveries.
Full program here:
www.aufildeleauaufildesmots.ca
---
Flowers, parks and green spaces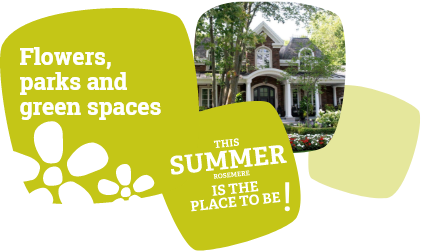 Rosemère in Bloom
Rosemère in Bloom is an annual contest that residents can enter free of charge. Prospective contestants in all categories must submit an entry form online, along with a picture.
All details here: ville.rosemere.qc.ca/rosemere-in-bloom.
Gardening bazaar and Secret Gardens Tour

July, 2024
Discover a host of hidden horticultural gems as homeowners open up their yards to the public. Tickets available for purchase on site at Hamilton House for $10 each. All proceeds will go to Les Petits Plaisirs, a respite care organization.
---
Outdoor sports and recreation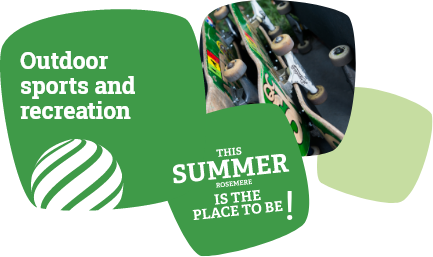 Rosemère en santé

June, 2024
Departure in front of Alpha School.
Participate in this family-friendly race for all ages. Courses of 1, 3, 5 and 10 km are available. Please register online on the Rosemère en santé website. It will also be possible to register on site, on the day of the event, starting at 8 a.m. and ending 30 minutes before each race.
Consult the map of the courses
---
Festive events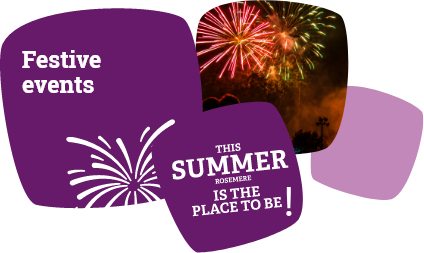 Neighbourhood Block Party

June 3, 2023
Rosemère en Arts

June 10 and 11, 2023
Pool beach party

August 18, 2023, 1 p.m. to 6 p.m.
Citizens' Day

August 19, 2023, starting at 4 p.m.
***
Harvest Day

September 16, 2023, 10 a.m. to 3 p.m.
Come and celebrate Harvest Day, a festive, healthy and supportive event that marks the autumn harvest with the community.
Tons of activities for the whole family: workshops, kiosks, mobile farm, Floreat en arts and much more!
You're invited to bring fruits, vegetables and non-perishable food for Moisson Laurentides, an important pillar of food aid in the region.
***
Culture Days

September 29-30 and October, 2023
Culture Days are back in Rosemère from September 29 to October 1! Take part in free activities at the Rosemère municipal library.
Registration is required for all activities through the
Voilà! Rosemère
platform.
---
Gastronomic pleasures
Public Market

June 28 to August 9, 2023, 3 p.m. to 7 p.m.
Municipal Library parking lot
Exhibitors:
400 pieds de Champignons
Bulles etc. Inc
Bassimo
Café Strega S.E.N.C
Camilo's chocolat Inc
Domaine Kildare
Fines herbes Patrick Lauzon
JR déco
Les Frères de Terre
Lilly and Grace
Maison Majorelle
Multi-Ferme
O Palais Gourmand
Paysage en pot
Les Petits Beignes du Nord
Solo Créations
Tabliers pour vous
Tissage d'Autrefois
Vignoble Rivière du Chêne
---
Art and cultural activities
Outdoor Movies

June 30 and August 25, 2023, 8:30 p.m.
Recreation Department lawn
June 30 : Coco Ferme (in French)
August 25 : Super Mario Bros (in French)




The activity is free and does not require registration.

Bring your chairs and blankets.




In case of rain, even light rain, the activity will not take place. If it has to be cancelled, information will be shared via our communication platforms.






Floréat en Art

The artists will be waiting for you in great numbers!




Sunday, July 9, 2023, during Secret Gardens

Saturday, August 19, 2023, during Citizen's Day

Saturday, September 16, during Harvest Day

Sunday, October 1st, 2023, during the Cultural Days



Family shows and summer concerts from June 21 to August 9, 2023
- Recreation Department Lawn -


Family shows – July 15 and August 12, 2023, 10 a.m.

In case of rain, family shows will be held at the Memorial Community Center
July 15 | Kalimba

Kalimba, the youngsters' favorite percussionist-singer, is trying to overcome many challenges. Drums, electronic coat, body percussion and songs serve as her instruments to help her concentrate, to keep the focus when everything is going too fast and also to release the pressure.

August 12 | Bill Bestiole 2: "Creatures of the Jurassic!"

With the help of the audience, Bill goes back in time to show us these huge creatures of the past. He also invites us to discover insects and other bizarre creatures from the Jurassic period. With fun songs and colorful interactive acts, he takes us back in time to amaze us.
Summer concerts –Every Wednesdays, from June 21 to August 9, 7:30 p.m.

In case of rain, concerts will be held at the Sainte-Françoise-Cabrini Church.
June 21 | Orchestre symphonique des jeunes de Rosemère and vocal group Les Baladins de Laval
Classical new generation and adult choir

A colorful summer concert that mixes South American music and film music.
June 28 | Gabrielle Shonk
Folk

Gabrielle Shonk switches from English to French with surprising ease. The folk sound of her compositions often flirts with indie music without ever breaking the musical thread that links the pieces to each other.
July 5 | Maxence Lapierre
Rock and roll

It is with ardor, humility, a touch of modernity and above all a big smile that Maxence makes his piano resonate. The artist accompanies himself with a wild piano style as it was done more than a hundred years ago in the American piano bars.
July 12 | Marie-France Lantin et Bernard Racicot
Covers and compositions

Over the years, Marie-France Lantin has developed a rich and unique voice that shone during her run on La Voix in 2023. On stage with singer-songwriter Bernard Racicot in a band format, they present a refreshing show with their original songs and covers.
July 19 | Jérôme Charlebois
Blues

Jérôme Charlebois will present new songs with his 4 musicians in addition to his usual hits and well-loved covers! With his experience and his ever-expanding material, Jérôme is well equipped and adapts very well to his audience. A dynamic, rhythmic and colorful show, but above all accessible to all.
July 26 | Phil G. Smith
Country

Phil G. Smith is back on tour with his new show On est encore là. With performances on major Quebec stages, including LASSO Montreal and the Festival Western de St-Tite, the songs from the new album On est encore là pave the way for a show that will take us on a journey, windows down, from Saguenay to Nashville.
August 2 | Marianne Lambert
Soprano and harp, opera

Soprano Marianne Lambert and her partner Valérie Milot on the harp offer a concert of beautiful melodies by Rossini, Donizetti, Bellini, Sgambati, Mozart and Schubert, all of are both charming and dreamy.
August 9 | Dan Bigras
30 ans de carrière

Dan Bigras' album tue-moi is already 30 years old and he wanted to offer you an anniversary show where he will cover his greatest hits, new songs and must-haves from this mythical album that has marked the Quebec musical industry!