May 09 2019
2nd edition of Rosemère en Arts - Amazement Guaranteed!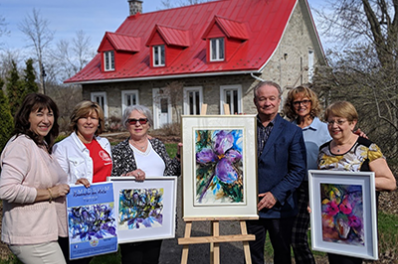 ROSEMÈRE, Thursday, May 9, 2019 – The Town of Rosemère is proud to announce the second edition of the Rosemère en Arts event, which will take place on June 1-2, on the grounds of the Recreation Department and the Sainte-Françoise-Cabrini church.
With more than 50 local artists, including several from Rosemère, this artistic event is the ideal opportunity for residents to broaden their horizons, while taking part in the many interactive activities offered. "In our community, our values and country-style identity are rooted in culture. I am therefore inviting all Rosemerites to take part in this activity, which brings together both youngsters and grown-ups alike, and I'm looking forward to a large turnout among you all. I would also like to warmly congratulate the Rosemère Artists Gathering (RAR), which is so expertly organizing this cultural event," noted Rosemère Mayor Eric Westram.
To encourage this major biennial event, the Town of Rosemère is pleased to provide financial support of $10,000, as well as the loan of equipment and personnel for the technical aspects of the event. This event is fully managed by the Rosemère Artists Gathering (RAR).
"We are inviting all art lovers to come and meet the artists who will be on hand! In addition to really impressing you, their works of art will amaze you and carry you off on travels around the world. Discover art in all its forms!" commented RAR Director Caroline Foley.
Rosemère en Arts will take place on Saturday and Sunday, 10 a.m. - 5 p.m. Young collectors are invited to visit Lapetite galerie, where they can purchase a signed canvas that they will have taken the time to choose for themselves. A silent auction will also be held in the library's atrium. Don't miss it!
Participants will have a chance to win a painting by our guest artist, Madone Simard.
For more information on the schedule and exhibitors: www.leregroupementdesartistesderosemere.com
- 30 -