December 10 2018
Agreement Between Rosemère and Boisbriand - First Responder Service Now Available in Rosemère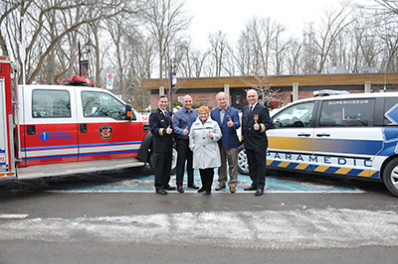 Rosemère, December 10, 2018 —The Town of Rosemère is proud to announce the official launch of a new first responder service. As of 8 a.m. on December 10, 2018, when a Rosemère resident dials 911 for a medical emergency, the call will automatically be directed to the first responder firefighters at the Boisbriand fire department. This new service is the result of an agreement reached between the two municipalities in September in conjunction with the CISSS (Integrated Health and Social Services Centre) des Laurentides.
"This new first responder service will make it possible to provide immediate assistance to people experiencing cardiopulmonary arrest, anaphylactic shock or another critical medical or trauma situation," said Eric Westram, Mayor of Rosemère. "The agreement with Boisbriand will ensure Rosemerites enjoy a considerably higher level of service and will help reduce the chances of mortality or long-term complications following a serious accident. We are very proud to be making the community safer for our residents."
The first responder firefighters are qualified to deliver emergency treatment until ambulance technicians arrive on the scene and take charge. In the case of cardiopulmonary arrest, for example, quick action is vital, as a victim's chances of survival decrease with every minute that passes without emergency care. The rapid administration of defibrillation significantly improves the likelihood of a better outcome.
"We are very pleased with this agreement, which allows us to share our expertise," said Boisbriand Mayor Marlene Cordato. "With an initial 60hours of training provided to all our firefighters, Boisbriand is the first fire department in the Lower Laurentians that can rely on a permanent crew of Level3 first responders."
This training has been provided by the pre-hospital emergency services team at the CISSS des Laurentides. Three refresher courses will be required every year to maintain certification.
The Boisbriand fire department also has nine qualified teams specializing in rescue techniques that allow them to get to places that are inaccessible to paramedic ambulance technicians, including water and ice rescues, structural and trench collapses, enclosed spaces, heights and isolated environments.
— 30 —