September 23 2018
New for the 2018 "Journées de la culture" in the Thérèse-De Blainville RCM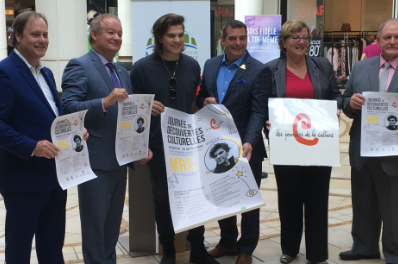 Town of Rosemère, September 12, 2018 – The Thérèse-De Blainville RCM launched the 2018 edition of the "Journées de la Culture" (Culture Days) unfolding from September 28 to 30 inclusively. RCM prefect and Blainville mayor Richard Perreault urged the public to make the most of planned activities.
"During these three days dedicated to culture, the RCM's seven municipalities invite their residents to take part in various cultural events. We are referring here to more than 50 accessible activities of interest to all members of the family and available free of charge," noted Mr. Perreault.
Programs are available on the website of each of the towns as well as that of the Thérèse-De Blainville RCM. It should be noted that, for the third consecutive year, programs will also be available on the free Ondago app. Simply downloading this application will make it possible to quickly identify activities held in the seven towns. To download this app on your mobile device (Cell Phone or iPad), click here: https://igloocreations.com/fr/home/
Cultural Action Round Table
The pooling of cultural development efforts in the RCM also involved a Cultural Action Round Table. This group brings together representatives of each of the towns, working together to develop ideas and oversee cultural projects in the RCM. Odyscène and the Petit theatre du Nord also contribute to the Table's activities.
Sylvie Surprenant, the mayor of Sainte-Thérèse and Table chair, explained the nature of projects developed by this body. "I am thinking of projects resulting from the cultural development agreement concluded with the Ministry of Culture and Communications, such as the sign system currently being produced to provide information on the region's built heritage or common projects such as the RCM's summer show pamphlet. I am quite pleased of what we have achieved in this field in recent years," she stated.
New format, New site for the regional activity
For its 8th edition, the regional portion of the event will move to Place Rosemère as of 10 a.m., Sunday, September 30. Activities will be held in the public court near Zara.
"This new format will make it possible for our territory's cultural organizations and artists to interact with the public through workshops, booths and short stage performances, including that of Ludovic Bourgeois," explained Eric Westram, mayor of Rosemère and Vice-Chairman of the Cultural Action Round Table.
"It is with considerable enthusiasm that we invite the residents of the Thérèse-De Blainville RCM to this celebration. This event will reflect culture in our region, which is to say, a culture that is young, varied, original, vibrant and open to the world," concluded Mr. Westram.
-30-