Residents
Works, Roads and Zoning
Roadwork Information
Should you have any questions, do not hesitate to contact the Planning and Sustainable Development Direction – Infrastructure Services at (450) 621-3500 ext. 3314.


Rehabilitation work on the bicycle path north of Autoroute 640 - detour planned
A section of the bicycle path (1.4 km) north of Autoroute 640, located between Roland-Durand Boulevard and Montée Lesage (between Blainville and Sainte-Thérèse), will undergo major repairs. Excavation operations and foundation work will begin on September 28. For the safety of users, this section of the bike path will be completely closed until the end of November. Cyclists are invited to use the marked bicycle path on Roland-Durand Boulevard and the La Route verte (adjacent to Montée Lesage) to safely bypass the work zone.
Please note that paving and landscaping work will be completed in 2021.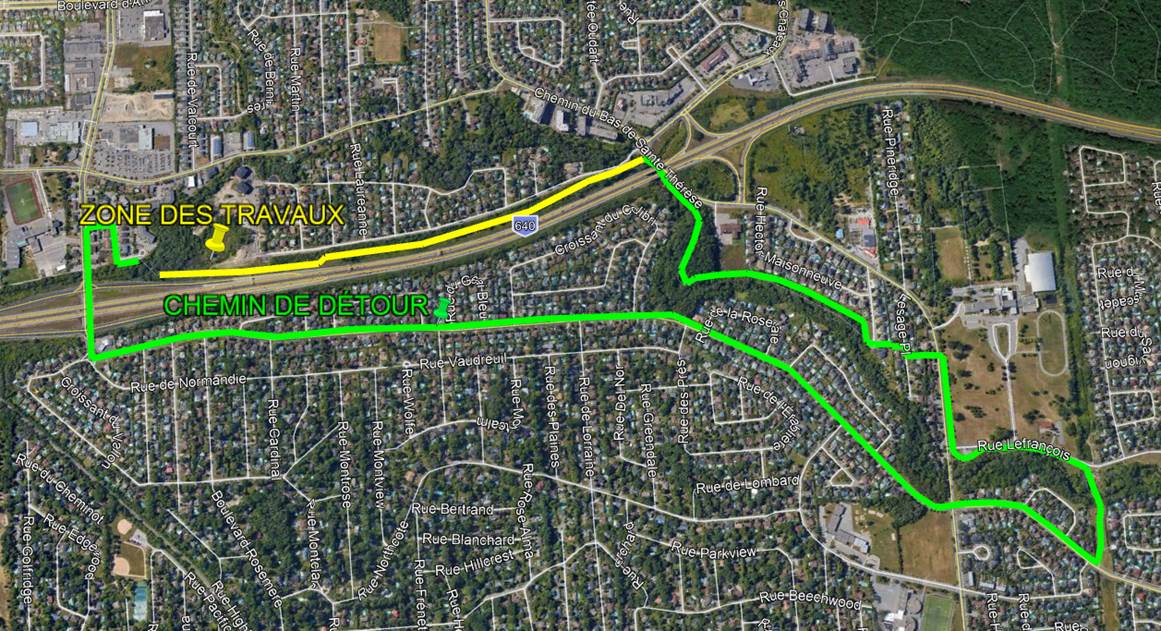 ---
Replacement of the water main on Forget and Montclair streets
Please place your various waste bins on the street according to the pick-up schedule. The contractor will be responsible for moving and replacing your bins as needed for collection. In addition, the contractor will notify you to plan ahead and move your vehicle beforehand in case your driveway is not easily or quickly accessible and you need to drive somewhere.
Local traffic will be allowed. Please respect the signs posted at these worksites.


Forget Street
Most of the work are now completed, but please note that there will be a one-time operation in November at the corner of Grande-Côte Road and Forget Street in order to make a connection. You will be informed of further details about this operation at a later date.
Montclair Street (between Normandie and Westward Streets)
Work will continue until October 12.
---
Reinforcement work on Île Ducharme bridge
Structural reinforcement work under the Île Ducharme bridge will continue until November10.
Throughout the work, traffic on the bridge will be maintained. Overnight closures previously scheduled will not take place.
---
Weight restrictions on the Île Bélair Bridge (R-117 – Labelle Blvd.)
The Ministry of Transport, Urban Mobility and Electrification of Transportation advises the public, truckers in particular, that weight restrictions are implemented on the Île Bélair Bridge located north of Marius-Dufresne Bridge on Route 117.
This measure is required in order to maintain the structure's functionality. It should be noted that the condition of the bridge does not in any way compromise the safety of users.
Weight restrictions based on the type of vehicle
The following vehicles will no longer be allowed to drive over the bridge:
single-unit motor vehicles weighing more than 18 tons
double-unit motor vehicles weighing more than 26 tons
motor vehicles consisting of more than two units and weighing more than 34 tons.
For additional information, go to the website of the Ministry of Transport, Urban Mobility and Electrification of Transportation.