September 21 2017
Tribute Evening to Rosemère Pioneer and Builder Maurice Labelle
ROSEMÈRE, September 19th, 2017 – The Town of Rosemère held an evening tribute to Maurice Labelle, who passed away this summer, on July 25, at the age of 89. This tribute evening on September 19 took place to honour the memory of this representative of the fourth generation of the Labelles, one of the pioneer families on Rosemère territory, and to highlight the considerable contribution of this former notary and actively involved resident, who invested a lot of effort in the development of Rosemère and his community. His family and loved ones were on hand for the occasion, in the library solarium.
"Maurice Labelle began his career as a notary here, in the early 1950s, even before Rosemère was granted the official status of a town in 1958 and the powers related to it. As a prominent person at the time, he therefore saw Rosemère emerge as a town and took part in its growth and development. He was also very involved in his community, a very considerate, determined and energetic person who wasn't reluctant to defend his ideas to ensure the community's well-being and harmony," pointed out Rosemère Mayor Madeleine Leduc.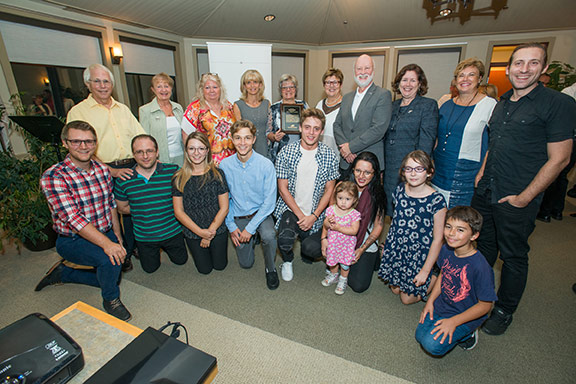 Among Mr. Labelle's volunteer work, he was the secretary-treasurer of the Commission scolaire de Rosemère (the local school board) and secretary of the parish of Sainte-Thérèse, Rosemère's roots. He also took part in funding both the Manoir Hubert-Maisonneuve, which has now become the CHSLD, as well as the Rosemère Foundation, and he established the Town's chamber of commerce (Chambre de commerce de Rosemère). Moreover, he was very active on the organizing committee for Rosemère's 50th anniversary in 2008: In particular, he gave talks on history, at the library, together with the late Denis Hardy, a historian and resident of Rosemère who was also very committed to his town. In addition, Mr. Labelle created a quiz for adults and another one for elementary school students and later initiated and coordinated a tribute evening for the pioneers, bringing together over 400 guests and descendents of Rosemère's founding families.
"For Mr. Labelle, this large gathering of pioneers represented the materialization of a promise that he had made to his father to one day bring together the descendents of Rosemère's pioneer families so that future generations remember their origins. We are very grateful to him for all his accomplishments within our 50th anniversary and for having contributed, all throughout his life, toward making Rosemère what it is today," stated Mayor Leduc in her closing remarks.
The Labelles, among Rosemère's pioneer families
Like the Hardys, Lesages, Kimptons, Morrises, Tylees, Hamiltons, Maisonneuves, Gilmours, Charbonneaus, Delormes and a number of other families, the Labelles are among the pioneer families who helped build Rosemère and contributed toward its growth. It was in 1784 that Paul Labelle and Angélique Grignon (Maurice's paternal great-grandparents) settled on chemin de la Grande-Côte, on land where rue Lacroix stand today. A number of their descendents presided over Rosemère's destiny: Adélard (Maurice's paternal grandfather), a farmer, merchant and then railway station master, postmaster and mayor of Sainte-Thérèse (1919 -1925); Hector (Maurice's father), the son of Adélard Labelle and Adèle Labelle, a merchant, railway station master and postmaster, like his father, who contributed toward establishing the parish of Sainte-Françoise-Cabrini and was a member of Rosemère's first Town Council.
Traces of the Labelle family are still very much present in Rosemère, as a number of streets are named after their descendents: Adélard, Adèle, Philippe, Hector, Rose-Alma, Maria, Jean, Maurice, Alexandre and Ovila.