January 22 2018
Citizen Donald Turcotte invited to sign Rosemère's Golden Book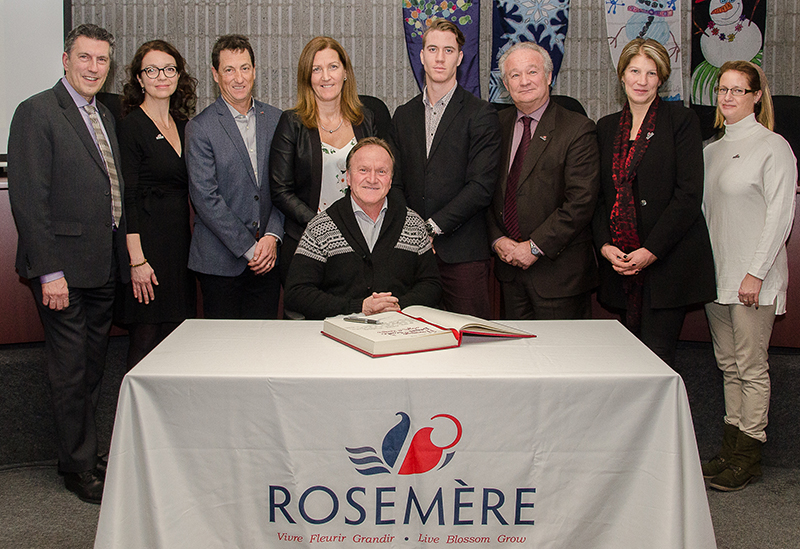 ROSEMÈRE, Monday, January 22, 2018 – Mayor Eric Westram and his colleagues on the Rosemère Municipal Council invited citizen Donald Turcotte to sign the Town's Golden Book, in the wake of the mayor's tribute to him at the public meeting held at the Town Hall.
At the time he retired in 2014 after 30 years of service, Donald Turcotte was a sergeant and master instructor with the City of Montréal's Police Department (SPVM). For a police officer, taking part in a mission abroad is a dream come true. This is a dream that Mr. Turcotte fulfilled three times during the course of his career, taking part in Haitian missions, the most recent of which took place from May to October 2017 when he'd been retired for three years. His challenge, on this latest tour, was to provide training within the context of resignations since, when he arrived in the field, the instructors who were to provide him with support on this project had left. As a result, he was on his own to train 35 Haitian instructors and 200 police officers, a task that he effectively carried out with hard work and determination.
His previous Haitian mission was carried out following the 2010 earthquake, an event that had a profound effect on him, on both a human and emotional level. He will never forget the images of sadness and desolation that greeted him daily. His challenge then was to keep his cool in order to see this humanitarian mission through to the end. His first mission was carried out while he was still with the SPVM.
Not everyone is chosen for an international peacekeeping mission. To fulfil its commitment to the international community, the SPVM subjects the officers who will represent it to a strict selection process. The selected officers must then undergo training in preparation for their mission.
"Your unwavering courage and perseverance in helping a population in need during your three international tours of duty in Haiti make you a model for our community. The police officers who provide essential services on a daily basis do not always receive the recognition they deserve, and humanitarian work like yours helps forge closer ties with citizens. We are proud to have remarkable individuals of your ilk in our community. In signing our Golden Book, you are honouring us by becoming part of our collective history," noted mayor Eric Westram.
The Golden Book
The Town's Golden Book records the visits of personalities to Rosemère as well as the noteworthy commitment of residents who have distinguished themselves in different sectors of activity. An official recognition by the Town, the signatures it holds are part of our collective memory.
- 30 -