October 20 2020
New Sculpture at Hamilton House
The City is pleased to unveil its most recently completed sculpture, located in the new meditation garden at Hamilton House!
Designed by artist Maud Palmaerts, this work entitled "Les racines de l'être" is an integrative sculpture whose primary intention is to create a comforting and protective space. It is composed of a rust-coloured Corten steel structure that looks like a tree, roots and branches intertwining. The characters are holding an umbrella glowing with transparency and bright colours!
During the cultural mediation, during which the residents took part in designing the sculpture, the artist told us how pleasant all the residents were. Some came to visit her regularly to support her and keep her company throughout her residency. She would like to express her heartfelt thanks to them all.
"I discovered caring people, open to new things, intrigued and curious about the process and the discourse of the emerging work of art. I had the opportunity to meet members of the Goodwill Committee and we had wonderful discussions! The values and mission of this Committee aim to reconnect residents of all generations around the challenges of aging. This is an important topic, especially in the situation we are facing today," noted the artist.
This sculpture will be part of a magnificent floral walkway that will enhance the superb meditation labyrinth starting next spring. At its centre, the sculpture becomes integrated and rises as a return to unity, a symbol of love of self and others and unifying bonds. With its commemorative umbrella, the sculpture offers us shelter, respite and protection, while bringing light and colour to the stages of life we go through.
"I discovered a remarkable town and its residents. Thank you for your confidence and trust as well as for your inspiring vision. I have come away enriched from this experience, and with increased stature, too," stated Mrs. Palmaerts.
Drop by Hamilton House to admire it!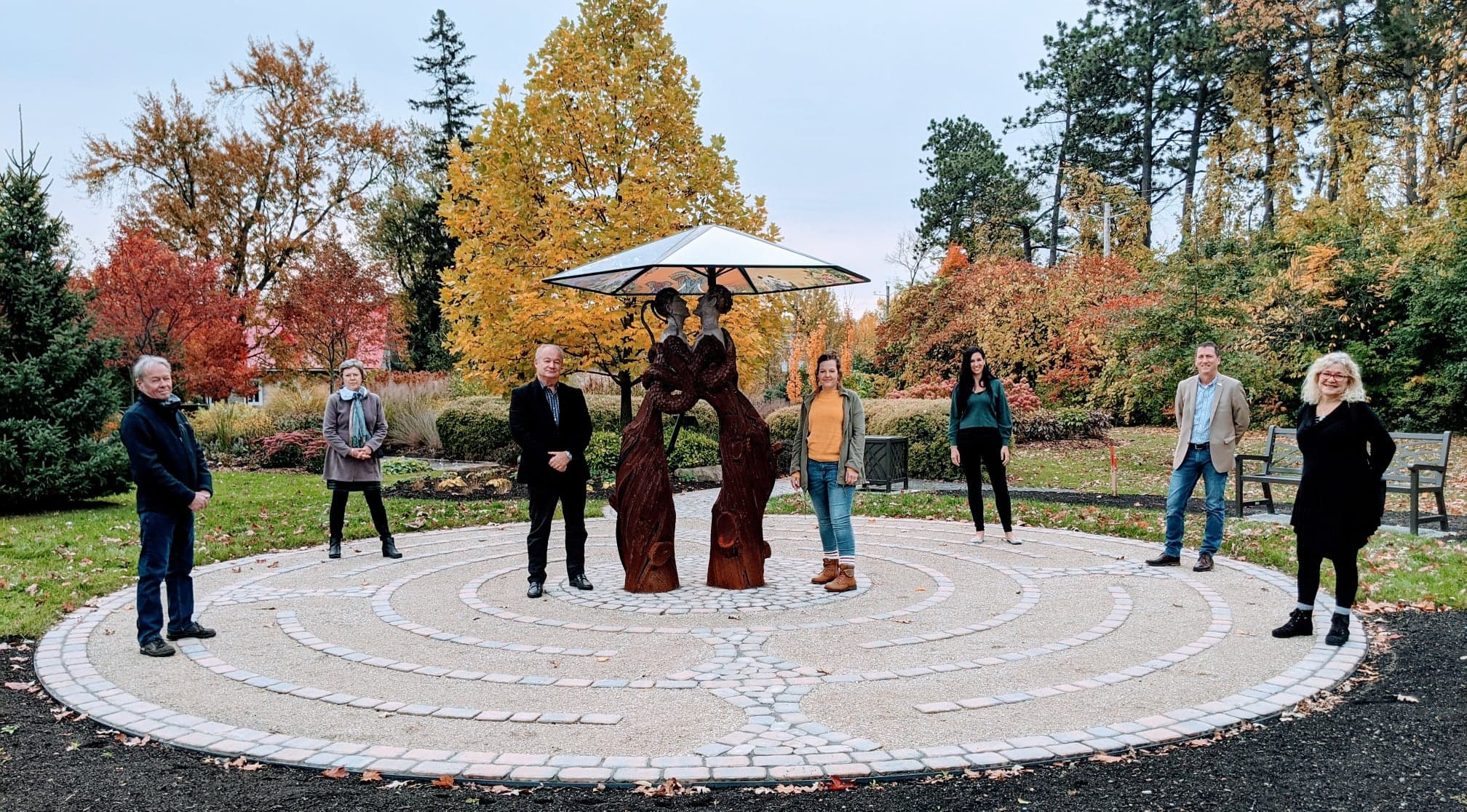 Photo (left to right) : Jean-Yves Côté, Lise Corriveau, Eric Westram, Maud Palmaerts, Stéphanie Nantel, Philip Panet-Raymond and Marie-Josée Leroux