October 22 2018
Signing of the Golden Book - The Town celebrates the determination of ten young Rosemère athletes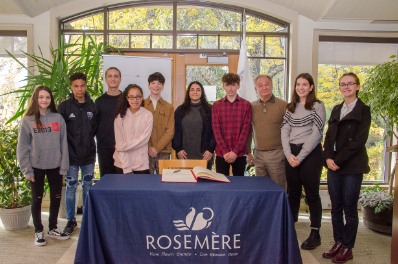 ROSEMÈRE, October 22, 2018 – Within the framework of the monthly mayor's breakfast held in the library's atrium this past Saturday, the Town of Rosemère celebrated the hard work and determination of ten young Rosemère athletes who took part in the 53rd Finals of the Jeux du Québec (Québec Games). This activity was attended by the young athletes' families.
Clovis Archambault (basketball), Sebastian Bédard Pérez (soccer), Samuel Couture (road cycling), Clara Demarbre (triathlon), Pénélope Primeau (road cycling), André-Anne Racine-Prud'homme (track and field), Isabella Rizzuto (basketball), Edward Robidoux (track and field), Alexie Plante-Cary (soccer) and Marc Zito-Danis (volleyball) proudly represented the Town of Rosemère from July 27 to August 4, in Thetford Mines and its surroundings.
Pénélope Primeau earned one gold and two bronze medals in road cycling while Samuel Couture took home a gold medal, a silver and a bronze medal in the same sport.
"Your commitment to your sport, the discipline you have shown and your excellence make you true ambassadors of our Town. Your determination is an example of courage and an inspiration to us all. Congratulations to each of you," stated Rosemère mayor Eric Westram.
– 30 –